Maintaining your vessel is never an easy task -especially if it cuts into the time reserved for fun and relaxation. At Brands' Marina, we love to help our customers when it comes to the routine of seasonal preparation or midsummer maintenance. Our staff is experienced at everything we do with many of our employees being with us for over 20 years (and a few of them over 30!!!)
For over 35 years both dockers and seasonal storage customers alike have relied upon our experience to handle all of their preparations for fall lay-up and spring launch. So whether you're in need of complete service or you just need help with a few small items, we're here to help.
Our list of available services includes:
Complete winterization & dewinterization of all applicable systems.

Inboard engine repair and maintenance.

Injector testing and rebuilding

Transmission rebuilding

Electrical system testing, repair and installation.

Electronics installation- sales available but not required.

cleaning: hull, topsides, & interior.

fiberglass buffing & waxing.

lifting & launching- 50, 35, & 25 ton travel lifts & marine railway system.

mast stepping & unstepping.

42' manlift for dockside mast work

battery installation, removal, storage & testing.

shrink wrapping

bottom painting(click for rates)

boat lettering & graphics.

sail cleaning, repair, & storage.

Rigging, swaging, lifeline and wire cable assembly, inspection and fabrication. Large inventory of 316 grade stainless wire and terminals from 1/16" to 3/8".

Line splicing for three strand and doublebraid. Ancor windlass splicing.
We would be happy to answer any questions on our available services. Our hourly rate is $79.00.

Dockage | Storage | Dry dock | Service | Location | Contact Lighthouse | Links
---
Brands' Marina
451 West Lakeshore Dr.
Port Clinton, Ohio 43452
Service - (419) 734-4212 or service@brandsmarina.com
Copyright: ©1997-2013 Tack Anew, Inc., dba Brands' Marina Website Design: Blockhaus Graphics ©1997-2013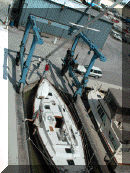 mast stepping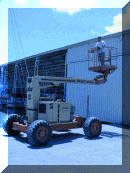 the ultimate rigging machine!